I have obtained from the wilderness known as ebay, direct from a seller this awe inspiring card: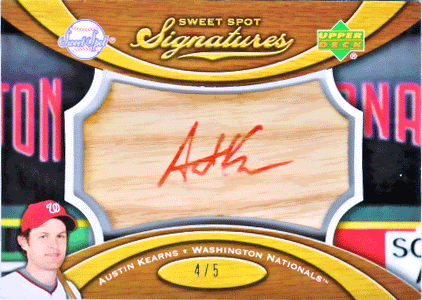 A 2007 Sweet Spot Signatures
Autographed Bat
No. 4 of 5 made
This is a way cool card. It is as thick as 3 of the eTopps fillers and the bat is inserted into the card itself. The gray around the wood is a shadow box type effect from wee the card edges do not meet the wood. The bat is curved and not flat like some I have seen. This is one of those cards that gives you bragging rights over other collectors.

Not that I have met any other Austin collectors. But I am looking
.
While not a game used bat or having an action photo of Austin I can still see him slapping one off of Rich Hill to drive in Zimmerman with it.